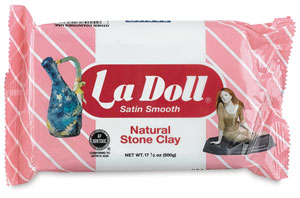 I just realized that we've never done a "Meet a New Clay" for La Doll clay. This is one of my favorite air-dry clays, so shame on me! ;-)
LaDoll, distributed by Activa, is the doll artist's choice for excellence with its mixture of pumice, talc, small amounts of paper pulp, and additional binders. Extremely pliant, it can be worked indefinitely by keeping it moist. It will adhere to any core material (wire, mesh, rigid wrap, paper, glass, plastic, wood, Styrofoam, and more) and can be stamped, carved, or sculpted with exceptional detail. It can be drilled,
sanded, or sculpted when dry. This clay will accept acrylics, oils, water based paints, as well as dry finishing powders. Additionally, the clay can be dissolved in water and used as a finish coat or soaked with paper or cloth to form into shapes. Dries with minimal shrinkage and a fine smooth texture.
The above paragraph is taken from the manufacturer's description, but I will agree with all those statements. In my experience using the clay I haven't had any problems using it as described. It's a wonderful clay to work with if you are interested in sculpting with fine detail. That's why
La Doll is the clay of choice for many doll artists worldwide. The late Hannie Sarris was well known for her finely featured dolls sculpted from LaDoll.
Innocence by Hannie Sarris
La Doll clay is a bit stiffer than Creative Paperclay and a whole lot stiffer than cold porcelain and the soft clays such as Deco ClayCraft. This stiffness makes it a little more difficult to model than the softer clays but also allows for great detail. The n
atural stone
formula
dries to a hard finish and can be sanded very smooth. With a little extra effort on the artist's part, the final finish can be as smooth as silk.
After the clay has cured and dried, you can still add fresh clay to the sculpture by re-wetting, attaching small pieces of new clay and blending in. That means you can work on it for a very long time and can work very detailed. One of my favorite benefits of an air-dry clay like La Doll is that fact that your work is not prone to attracting dirt and tiny bits of whoknowswhat that floats in the air, which always seems to happen with polymer clay. The other major benefit is, of course, no need to bake. No more scorched noses!
La Doll is available in 3 formulas. The original, which is sometimes called 'Satin Smooth', plus Premier and Premix.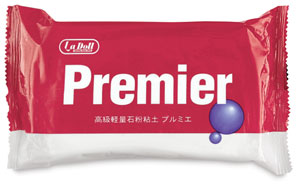 La Doll Premier is like La Doll Satin Smooth, but with a finer body, allowing for greater detail, exceptional strength, ultra-lightweight pieces, and a bright white finish. LaDoll Premier is a stiffer version than original La Doll but it works well for small, delicate areas such as fingers.
Premier can be blended easily with La Doll Satin Smooth.
La Doll Premix was developed by Hannie Sarris and is a combination of La Doll and La Doll Premier. It has combined all the benefits of both clays. Premix is stronger, better to work with and better to sand. It is a superb clay for the most delicate figures in air dry clay. The clay is fine textured with almost no fibers in it, very pliable and easy to work with. It hardly sticks on your hands. It is simply wonderful clay!